Flathead Watershed Educators' Guide
The Flathead Watershed Sourcebook Educators' Guide—a companion middle school curriculum for use with the Flathead Watershed Sourcebook was released in 2016. Another collaborative effort of the Flathead Community of Resource Educators (CORE) Watershed Education Committee, this project provides traditional and non-traditional educators with ready-to-implement, interdisciplinary activity based lessons that support the 8 chapters of information contained in the book. The lessons serve as a hands-on curriculum that link to both national and state teaching standards.
The Educator's Guide collaborative effort began with a Delphi Study to ascertain from resource managers, scientists and educators, what content would be most valuable to include. Rather than developing the lessons based solely on educators' ideas of what was needed, people who work in conservation, and who study natural ecology and cultural history were included in the development process. All of the lessons were also developed with Sense of Place in mind, each lesson focused on Flathead Watershed culture, history, or events. We are particularly grateful to the educators from throughout the Watershed who helped in the design, testing, and implementation of the Guide. It is our hope that as more educators have opportunities to use the Guide, they will provide feedback that will help us to continually improve its usefulness.
The Educators' Guide is available by contacting the publisher: info@flatheadwatershed.org.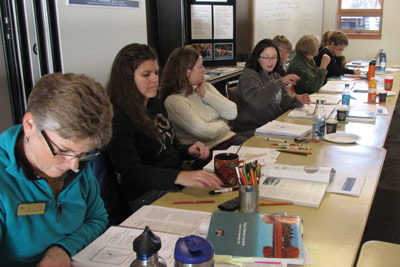 Flathead Watershed Educators' Guide workshop at the Flathead Lake Biological Station.
Source: Flathead Conservation District.